In an unexpected turn of events that has confounded veteran CFL observers and shocked Rider Nation, perennial choke-artists the Saskatchewan Roughriders failed to completely implode and managed to avoid a record-breaking second-half collapse that has vaulted the team into first place in the CFL's ultra-competitive West Division.
"We had a chance to make history here tonight," said Roughriders head coach Craig Dickenson lamenting the not-hard-fought 33-29 victory over the visiting BC Lions, "and we blew it. It especially hurts to win a game like this when we were playing at home in front of so many fans who have grown to expect less from us. A lot less. Our fans gave us a real opportunity to send 33,000 people home angry and disappointed, and ready to clog up the radio call in shows with their drunken and stupid opinions."
Chances for a gut-wrenching loss were dashed late in the fourth quarter when Roughriders defensive tackle A.C. Leonard, playing completely out of position and daydreaming about which bar he was going to go to after the game, accidentally intercepted a bizarrely-aimed and totally droppable pass from rookie BC quarterback Nathan Rourke.
"I want to apologise to my teammates for that lack of judgment," said a despondent Leonard. "I'm a veteran and I should have better situational awareness."
Even characteristically optimistic and pleasant cliché quote machine Roughriders' quarterback Cody Fajardo seemed miserable at the ugly turn of events.
"I can't really explain it," said a visibly shaken Fajardo. "We did everything he could to lose that game in the second half. Throw interceptions, drop passes, dumb penalties, couldn't move the ball on the ground whatsoever."
"My hands turned to stone," said Roughriders' receiver Shaq Evans, "and what about that overthrown pass Cody chucked at me? Sweet. Right into [Lions' defensive back T. J.] Lee's hands, like he was aiming at him."
"I was," added Fajardo.
"Hey man, don't blame us," said defensive stalwart Ed Gainey defensively. "The whole secondary played like shit from the middle of the second quarter on. And did you see those lame-ass broken-arm passes we let Reilly complete? We couldn't have played them any worse if we practiced it. Total team effort. We did our part."
"I kinda felt sorry for the way I was completely running over the entire Lions' front seven in the first half," said Riders' running back William Powell, "so I told the boys up front to let them shut me down. I think I ended up with less than 50 yards for the whole game. I totally checked out."
"We can't let a win like this ruin the whole season," Fajardo said to a group of dazed local press, lead by a confounded Rob Vanstone. "There are 13 more games and we have to realize that each and every one of them is an opportunity to screw up, blow leads and embarrass ourselves. We'll look at the film tomorrow and figure out what we can do worse next time."
"It comes down to coaching," said Dickenson. "We have to teach this team that you can't just take your foot off the pedal, you have to get out of the car, light it on fire and roll it off a cliff. This team needs to learn what it really takes to lose games and miss the playoffs. It's not easy in a nine-team league.
12-year old Japanese kicking sensation and K-Pop superstar Takeru Yamasaki appears to have been the difference in the game, missing several kicks in the second half that could have saved the Saskatchewan Roughriders from the embarrassing victory.
"It's not Takeru's fault," said BC Lions special team coordinator Don Yanowsky. "We kept him up way past his bedtime and he was really cranky by the fourth quarter. That one-hour time difference between Vancouver and Regina was a real difference maker. We put him down for a nap right after the game but we're going to have to really plan this out better for games out east."
Yamasaki first became famous for garnering over 500 million YouTube views of his videos as a six-month old kicking used diapers at his hoikuen caregivers, causing mayhem and several serious but hilarious injuries, but he is best known throughout the Pacific Rim as Johnny Lover in the 25-person K Pop band RCL (short for Robot Carrot Love).
Yamasaki is actually Japanese, so he is a rarity in K Pop circles, but South Koreans seem to be forgetting about the whole World War II thing, and most of Yamasaki's North American fans aren't aware of the difference between Koreans and Japanese and wouldn't give a shit even if they were.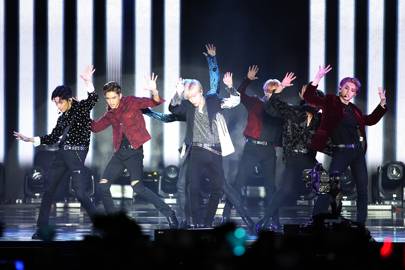 The British Columbia Lions brought Yamasaki in as part of the CFL's 2.0 global initiative to lower the talent level of Canadian professional football to semi-pro status by adding players from known football hotbeds like Mexico, Germany, Australia and… (wait for it) … Japan. It is also a well-known fact that there are no Canadian place kickers left in North American, and who cares that Canadian football players in general already have a hard enough time making it to the professional ranks, so mandating more positions for non-Canadians in the CFL is a good way of discouraging young local talent as much as possible. Yeah, good job CFL. Do you even know what the "C" stands for? But I digress. Anyway….
After Friday night's game, demoralized Roughriders' president and CEO Craig Reynolds announced plans to fly in former Atlanta Falcons head coach Dan Quinn as a special consultant.
"We need to learn how to lose, and lose badly," said Reynolds. "Embarrassingly bad. It will need to involve a total culture shift in the clubhouse. We can't keep not shooting ourselves in the foot. I'll start airlifting the worst dregs in professional football from all corners of the world if I have to. Look what BC did… brought in a guy from fucking Japan! Made him a starter! That's the kind of innovative thinking that it takes to turn your team, and the entire league, into a laughing stock. After the whole crossbar thing last year, I thought we really understood what it took to lose a game. Maybe I was wrong, but we still have faith in this team to turn this season around and make a run for the basement.
Asked if Rider Nation would have the patience to wait for the team to get worse, Reynolds expressed confidence. "Oh yes, absolutely. I grew up in Saskatchewan. Those dumb rubes will put up with anything from this team."
Reynolds promised to make the remainder of the 2021 CFL season an excruciating series of blowout loses, rank incompetence and unwatchable football befitting the hallowed history of the Saskatchewan Roughriders.
"We'll play so bad, not even a pathetic tele-a-thon will save this franchise," vowed Reynolds, taking a long swig from a whiskey bottle and throwing it at a poster of George Reed.
____________________________
Bonus Addition – In a post-game exclusive interview with Discombobulated, TSN football analyst, CFL Hall of Famer and all-time pain-in-the-ass to the Saskatchewan Roughriders Milt Stegall spoke with Discombobulated about Friday night's Roughriders victory. Here is a transcript.
MR. STEGALL: First of all, I don't like you. You are a cowardly loser with a flabby body who hides behind the anonymity of your pathetic blog that no one reads and you know nothing about football, life or common decency. Let's get that straight.
DISCOMBOBULATED: Yes sir.
MR. STEGALL: Next, the only reason I am talking to you is because those assholes [Davis] Sanchez and [Jim] Barker took up all my time last night on the CFL panel and Kate [Beirness] let them. Makes me wish we still had that clown Marty York to kick around.
DISCOMBOBULATED: Yes sir. Jim Barker's daughter-in-law used to be my dental—
MR. STEGALL: I don't care. You need to keep your mouth shut.
DISCOMBOBULATED: Yes sir.
MR. STEGALL: Okay, now, the Saskatchewan Roughriders need to—
DISCOMBOBULATED: What's Kate like?
MR. STEGALL: I told you to keep your mouth shut. Do I have to—wait, what?
DISCOMBOBULATED: What is Kate Beirness like, you know, in real life?
MR. STEGALL: Are you kidding me? That's what you want me to talk about?
DISCOMBOBULATED: Well, no, not really, I guess, but since you're here I thought—
MR. STEGALL: You thought? Look, you don't need to think. You haven't had a normal thought in that walnut-sized brain of yours for years. I've read your blog, and you are a drunk, a hack and a moron.
DISCOMBOBULATED: You read my blog?
MR. STEGALL: Not really, no, but… you know what? This was a bad idea. This interview is over.
Discombobulated wishes to thank Mr. Stegall for this time.